The Sri Lankan Rupee has further depreciated against the US Dollar as the selling price hikes up to Rs 167.14 per US Dollar. MORE..


19 Sep 2018 (3:07 PM)



A suspect wearing a full face helmet and armed with a knife has robbed Rs 1.7 million in cash from a private finance company in Chavakachcheri. MORE..


19 Sep 2018 (1:30 PM)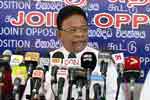 There is no other era in the Sri Lankan history, in which Sri Lankan Rupee consecutively depreciated three times just within a week and three years, claims the Joint Opposition. MORE..


19 Sep 2018 (7:06 PM)